PROJET "29PRemote"
Observatoire de Dauban (04)
station #A77 => New #L27
PROJECT "29P Remote"
Observatory Dauban (04)


Situation Géographique
Geographic location
@
Images F.Kugel
L'observatoire
The observatory
@
Images F.Kugel
L'abri "29PRemote" en construction
The shelter "29 PRemote" under construction



@Images F.Kugel
Le projet
The project
Depuis maintenant 2 ans (2014-2015), en collaboration avec R. Miles du B.A.A. London, nous observons la comète 29P S-W1 de façon quasi journalière. En particulier, avec le Faukles Sud, l'observatoire de la pointe Africaine et CAO du Chili.
La réalisation de courbes de lumière annualisées, a permis de mettre en évidence une régularité dans les sursauts majeurs et de mettre en évidence des sous fréquences pour cette comète.
La résolution des points obtenus, sur cette période de 2 ans, est 20 fois meilleure que toutes les observations obtenues depuis ces 20 dernières années (!).
Des théories sont échafaudées sur la nature de ces "Outburst" et ce grâce à l'apport observationnel soutenu, qui met en avant la fréquence cyclique de certains "foyers" de 29P S-W1.
Malheureusement, jusqu'à maintenant (2017), l'annonce d'un sursaut est de quelques heures au mieux "après" le dit "allumage".
Le projet est donc :
- de mettre un maximum de stations d'observation en place, pour couvrir au mieux (24h si possible) la surveillance de cette comète,
- de permettre, et c'est là l'essentiel du projet, pour la "toute première fois", la mise en évidence d'une montée photométrique (très transitoire) d'un de ces "Outburst".
D'après le modèle +/- 1H30 de pente.
Le projet "29PRemote" à Dauban, est donc là pour améliorer/renforcer cette couverture déjà bien établie du réseau optique existant.
Mais surtout par le caractère dédié de cette station (à savoir une observation continuelle sur toutes les périodes de visibilité nocturne de 29P S-W1 que peut apporter le site de Dauban), essayer de mettre en évidence la progression d'un pré-sursaut.
REALISE EN 2017 => https://www.britastro.org/node/10684

2 years now(2014-2015), in collaboration with R. Miles of B.A.A. London, we observe the comet 29P S-W1 almost daily basis. In particular, with the South Faukles, the Observatory of the African and CAD tip of Chile.
Achieving annualized light curves, allowed to highlight a regularity in major bursts and highlight sub frequencies for this comet.
The resolution points obtained over this period of 2 years, is 20 times better than all the observations obtained from the last 20 years (!).
Theories are scaffolded on the nature of these "Outburst" and thanks to the sustained observational contribution, which highlights the cyclic frequency of some "homes" of 29P S-W1.
Unfortunately, until now(2017), the announcement of a start is a few hours at best "after" the said "ignition".
The project is :
- To set up observation stations in place, to cover more (24 if possible) monitoring this comet,
- Permit, and this is the essence of the project for the "first time", the highlight of a photometric mounted (very temporary) of one of these "Outburst".
According to the model slope +/- 1H30.
The "29PRemote" project Dauban, is there to improve / strengthen this coverage already well established existing optical network.
But especially by the dedicated nature of the station (ie continuous observation of all periods of night visibility 29P S-W1 can bring the site Dauban), try to highlight the progress of a pre-start.
Aujourd'hui, R. Miles, par ses calculs, arrive à déterminer des fenêtres de "tension majeures" de +/- 10 jours sur une base d'environ tous les 57/60 jours.
Il sera donc souhaitable que pendant ces alertes pré-définies, le maximum de couverture d'acquisition soit mise en place par le télescope "29PRemote".
Pour cela, l'installation mettra en place des routines de type Obs. automatiques, ou script dédié.
L'observateur pouvant ainsi lancer puis se coucher, tout en récupérant les données le matin...
L'instrument sera couplé avec une station météo (déjà sur place), qui pourra si nécessaire couper, ranger et fermer le complexe, tout en alertant l'observateur par une alarme.
Des logiciels de gestion astronomique tel que "Prism" font très bien cela.
"29PRemote" : c'est un système autonome Informatisé, une monture Allemande contrôlée par MCMT II et une optique de diam. suffisante pour suivre la comète 29P S-W1 jusqu'à la frontière de mag. 18 sur une base de 60s unitaire.
L'instrument se voudra très compact, afin de limiter au maximum sa prise au vent. Ainsi, le système pourra exploiter au mieux les nuits de Mistral, fréquentes dans cette région.
La visibilité en Europe de 29P S-W1 va monter en puissance ces 5 prochaines années.
Il est donc souhaitable que ce programme soit financé et entretenu (matériellement) au moins sur cette période, et afin de favoriser au maximum la chance de réussite du programme photométrique pré-sursaut.
Dans l'idéal, le projet pourrait aller jusqu'en 2022-25, année ou 29P S-W1 sera au plus haut sous cette latitude de Dauban.
Today, A. Miles, by its calculations can determine the windows for "major strain" +/- 10 days on a basis of about every 57/60 days. It will therefore be desirable for these pre-defined alerts, the maximum purchase coverage is in place by the telescope "29PRemote".
For this, the plant will implement Obs type routines. automatic or dedicated script.
The observer may well start then to bed while recovering data in the morning ...
The instrument will be coupled with a weather station (already there), which may if necessary cut, store and close the complex, while alerting the observer by an alarm.
Astronomical management software as "Prism" doing very well.
"29PRemote": it is an autonomous system Computerized, controlled by German mount MCMT II and optics diam. sufficient to follow the comet 29P S-W1 until the mag border. 18 on a unit basis 60s.
The instrument is very compact wants to minimize its wind resistance. Thus, the system can make the best nights of Mistral, frequent in this region.
The visibility 29P S-W1 Europe will gain momentum over the next 5 years.
It is therefore desirable that the program be funded and maintained (physically) at least over this period, and to promote maximum success rate of photometric pre-start program.
Ideally, the project could go until 2022-25, the year 29P S-W1 will be the highest in this latitude of Dauban
Descriptif technique
Technical Details
Le caisson Remote, le "cerveau" du système :
Remote box, the "brain" of the system
Onduleur capacité tous systèmes nominaux : 60minutes, Ventilateurs 3 entrées / 2 Sorties 12v sous alim. 2A,
Ventilateur 220v Thermostaté gros flux (déclenchement à 30°c int.), 2 Alimentations Stabilisées 0/30v 0/5A auto-ventilées
à blocage de valeurs, MCMT 2 contrôleur télescope, 1 boîtier IPX800/V3 8 sorties,
PC HP Intel(R) Core(TM) I3-2100 CPU @ 3.10ghz Mémoire RAM : 4G0 S. d'E. => 64P W7, MOXA RS232, Clavier IR,
Ecran ACER, Webcam et Spot rouge pour surveillance int. de l'observatoire. IP Cam. de surveillance d'intrusion.
Inverter capacity all nominal systems: 60minutes, Fans 3 entries / 2 Outputs 12v under power supply. 2A,
Fan 220v Thermostat large flow (triggering at 30 ° c int.), 2 Stabilized 0 / 30v 0 / 5A Self-Vented Power Supplies
value lock, MCMT 2 telescope controller, 1 IPX800 / V3 enclosure 8 outputs,
HP Intel (R) Core PC (TM) I3-2100 CPU @ 3.10ghz RAM Memory: 4G0 S. of E. => 64P W7, MOXA RS232, IR Keyboard,
ACER screen, Webcam and red spot for int. of the observatory. IP Cam. intrusion monitoring.
La Monture
Telescope mount
Monture Allemande, de type AEb, poids +/-60kg, pièce de fonderie.
Charge possible : 30kg sans CP.
Moteurs : SECM 268-E2 0A DC 4.5v 2.0A, contrôlés par MCMT II.
Couronnes en bronze de diam. 150mm, 360 dents chacune.
German mount, type AEb, +/- 60kg weight, cast part.
can load: 30kg without CP.
Engines: SECM 268 0A-E2 DC 4.5V 2.0A, controlled MCMT II.
Crowns in bronze diam. 150mm, 360 teeth each.
La Camera CCD
The CCD Camera

ATIK 314L+
| | |
| --- | --- |
| Type de capteur | |
| Résolution horizontale | 1392 pixels |
| Résolution verticale | 1040 pixels |
| Taille des pixels | 6,45µ x 6,45µ |
| Profondeur | 16 bit |
| Bruit de lecture | 4e- RMS |
| Interface | USB 2.0 |
| Alimentation | 12VCC 0,8A |
| Temps de pose maximal | Illimité |
| Temps de pose minimal | 1/1000s |
| Autoguidage | Compatible ST-4 |
| Refroidissement | Thermoélectrique, -25°C sous la température ambiante. Allumage/extinction par logiciel. |
| Poids | Environ 400 grammes |
L'OPTIQUE
OPTICS
T 200 Newton Carbone "Made in Germany ".
800mm de focale, soit F/D : 4.
Secondaire surdimensionné et positionné en profondeur dans le tube, pour éviter l'humidité.
Barillet ajouré, possibilité de ventiler l'optique primaire.
Optique Primaire : BK7 - 94% Réflexion.
Peinture intérieur optimisée : Nextel black velvet fabriquée par Mankiewicz.
Correcteur "GPU" 4 éléments, en 2", champ corrigé 22mm.
POC "Starlight Feather Touch" 2".
Focalisation réalisée par "OPTEC", avec compensateur de T°
Anneaux "TS CNC" 240mm Aluminium.
T 200 Newton Carbon "Made in Germany".
Focal 800mm or F / D: 4.
Oversized secondary and positioned deep in the tube, to avoid moisture.
Perforated barrel, ability to ventilate the primary lens.
Optical Primary: BK7 - 94% reflection.
Secondary optics: 74mm - 94% Reflexion.
Optimized interior painting: Nextel black velvet manufactured by Mankiewicz.
Corrector "GPU" 4 elements, 2", 22mm field corrected.
POC "Starlight Feather Touch" 2".
Focus achieved by "OPTEC" with trim T°
Rings "TS CNC" 240mm Aluminium.
Tests des systèmes avant paramétrages sous ciel...
Testing of systems before parameters under heaven ...
Mise en place du matériel à l'observatoire de Dauban
Setting up the equipment at the observatory of Dauban
- 2016 05 16 -
T200 "29PRemote", 2016_11_07, -5°c, après 12h de fonctionnement.
T200 "29 Remote" 2016_11_07, -5 ° C, after 12 hours of operation.
Premiers résultats
First results

20160517.08
COD A77
CON JEAN-FRANCOIS SOULIER [jean-francois.soulier2@wanadoo.fr]
OBS J.-F. Soulier, F. Kugel
MEA J.-F. Soulier
TEL 0.20-m f/4 Newtonian reflector + CCD
ACK MPCReport file updated 2016.05.17
AC2 jean-francois.soulier2@wanadoo.fr
NET UCAC-4
0029P KC2016 05 17.08454 19 55 39.59 -25 15 55.2 17.48N A77
0029P KC2016 05 17.11474 19 55 39.46 -25 15 56.4 17.47N A77
0029P KC2016 05 18.08054 19 55 35.26 -25 16 07.2 17.02N A77
0029P KC2016 05 18.10982 19 55 35.19 -25 16 07.2 16.86N A77
0029P KC2016 05 20.07498 19 55 24.50 -25 16 36.4 16.55N A77
0029P KC2016 05 20.11704 19 55 24.26 -25 16 37.4 16.65N A77
0029P KC2016 05 21.06700 19 55 17.98 -25 16 50.8 16.86N A77
0029P KC2016 05 21.11230 19 55 17.58 -25 16 49.1 17.04N A77
0029P KC2016 05 22.09053 19 55 10.61 -25 17 08.9 16.79N A77
0029P KC2016 05 22.10934 19 55 10.44 -25 17 08.5 16.78N A77
0029P KC2016 05 23.08173 19 55 02.72 -25 17 28.2 16.81N A77
0029P KC2016 05 23.11746 19 55 02.33 -25 17 28.6 16.76N A77
0029P KC2016 05 24.11448 19 54 53.63 -25 17 47.8 16.78N A77
Premier "Outburst", 21 jours après la mise en place du T200 Remote
First "Outburst", 21 days after the introduction of the T200 Remote
New Outburst : the "29PREMOTE" telescope records the brightness rise


For the very first time the onset and development of an outburst of
enigmatic comet 29P/Schwassmann-Wachmann has been captured thanks to
independent observations by Jean-François Soulier and Juan Jose Gonzalez
Diaz on 2017 July 02. Details can be found on the BAA webpage:
https://www.britastro.org/node/10684
That BOTH observers were carrying out a time-series of CCD images at the
SAME time is an amazing coincidence especially when it is realised that this
is only the SECOND such strong outburst so far during 2017 and that such an
event is more or less over and done within a time-window of about one hour!
29P was discovered 90 years ago and at last we have some hard data showing
the onset of an outburst event. The beginning of the outburst is very sudden
and, as such, it is clearly a singular event reminiscent of a cryovolcanic
eruption at the nucleus. Analysis of the form of the rising lightcurve
should provide some valuable insight into this possibility.
The actual event was also the third very significant outburst within less
than 10 days and it is likely that the all three are inter-related in some
way, e.g. the first event triggered the second, which triggered the third.
Since the July 2nd event, a fourth outburst has also taken place just 3.5
days later! See Figure 3 at the above URL to see an example of the
photometric lightcurve these past 45 days.
Extremely well done Jean-François and Juanjo.
Congratulations,
Richard Miles
BAA
New Outburst
Second light curve made by #L27.
This time the start and end of the mini-jump event, are in the order loop of observations.
New Outburst with #L27, 2020.08.21
New Outburst 29P with Robotic Station #L27, mag : +/- 3
COD L27
OBS J.-F. Soulier
MEA J.-F. Soulier
COM T200 Newton, F/D : 4, MCMT 2, ATIK 314L+, Prism V10
COM 60s to picture, No Filter, 1.65"/Pix, A.Radius : 6.6"
COM Outburst 29P
COM 2020 11 19.735, m2 :16.3
COM 2020 11 19.957, m2 :13.3
TEL 0.20-m f/4 Newtonian reflector + CCD
NET UCAC-4
0029P C2020 11 19.73583 02 25 27.84 +26 13 55.7 16.4 N L27
0029P C2020 11 19.74811 02 25 27.41 +26 13 54.3 16.0 N L27
0029P C2020 11 19.76545 02 25 26.93 +26 13 51.4 15.8 N L27
0029P C2020 11 19.77872 02 25 26.55 +26 13 49.2 14.8 N L27
0029P C2020 11 19.78883 02 25 26.30 +26 13 47.8 14.2 N L27
0029P C2020 11 19.79749 02 25 26.02 +26 13 45.7 13.9 N L27
0029P C2020 11 19.82300 02 25 25.32 +26 13 41.8 13.7 N L27
0029P C2020 11 19.88660 02 25 23.56 +26 13 31.6 13.5 N L27
0029P C2020 11 19.93545 02 25 22.19 +26 13 22.8 13.3 N L27
0029P C2020 11 19.98110 02 25 20.92 +26 13 15.0 13.3 N L27
0029P C2020 11 20.02605 02 25 19.68 +26 13 07.4 13.3 N L27
0029P C2020 11 20.06231 02 25 18.69 +26 13 01.4 13.3 N L27
0029P C2020 11 20.08037 02 25 18.20 +26 12 58.1 13.3 N L27
0029P C2020 11 20.10509 02 25 17.52 +26 12 53.9 13.3 N L27
0029P C2020 11 20.12025 02 25 17.06 +26 12 50.7 13.4 N L27
----- end -----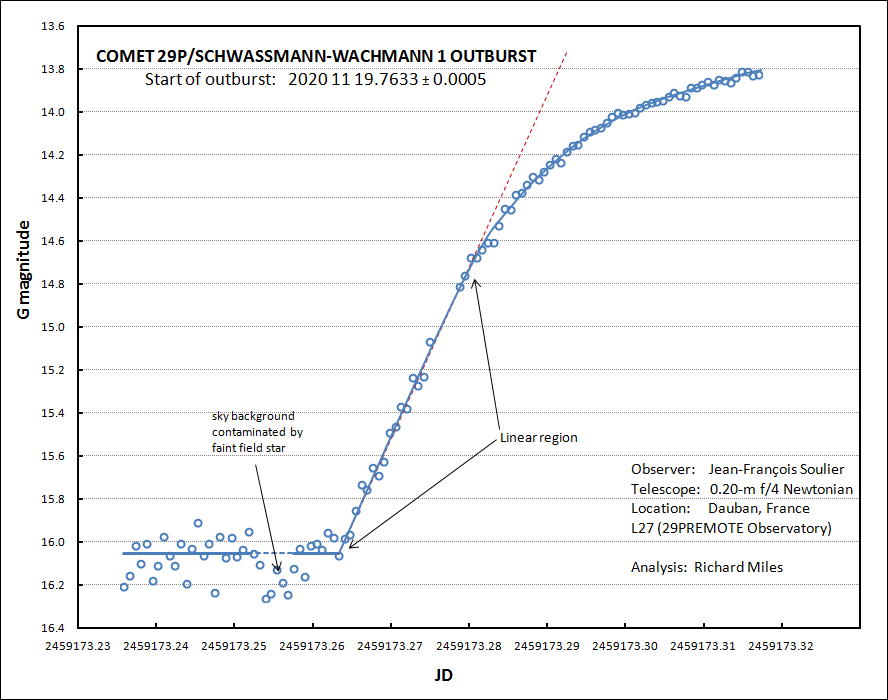 New Outburst 29P with Robotic Station #L27, mag : +/- 0.36
Animation :
http://6888comete.free.fr/images/forum/29P_20201119_Outburst_Soulier_.mp4
Zoom :
http://6888comete.free.fr/images/forum/29P_20201119_Outburst_Soulier_B.avi
New SETUP Juin 2021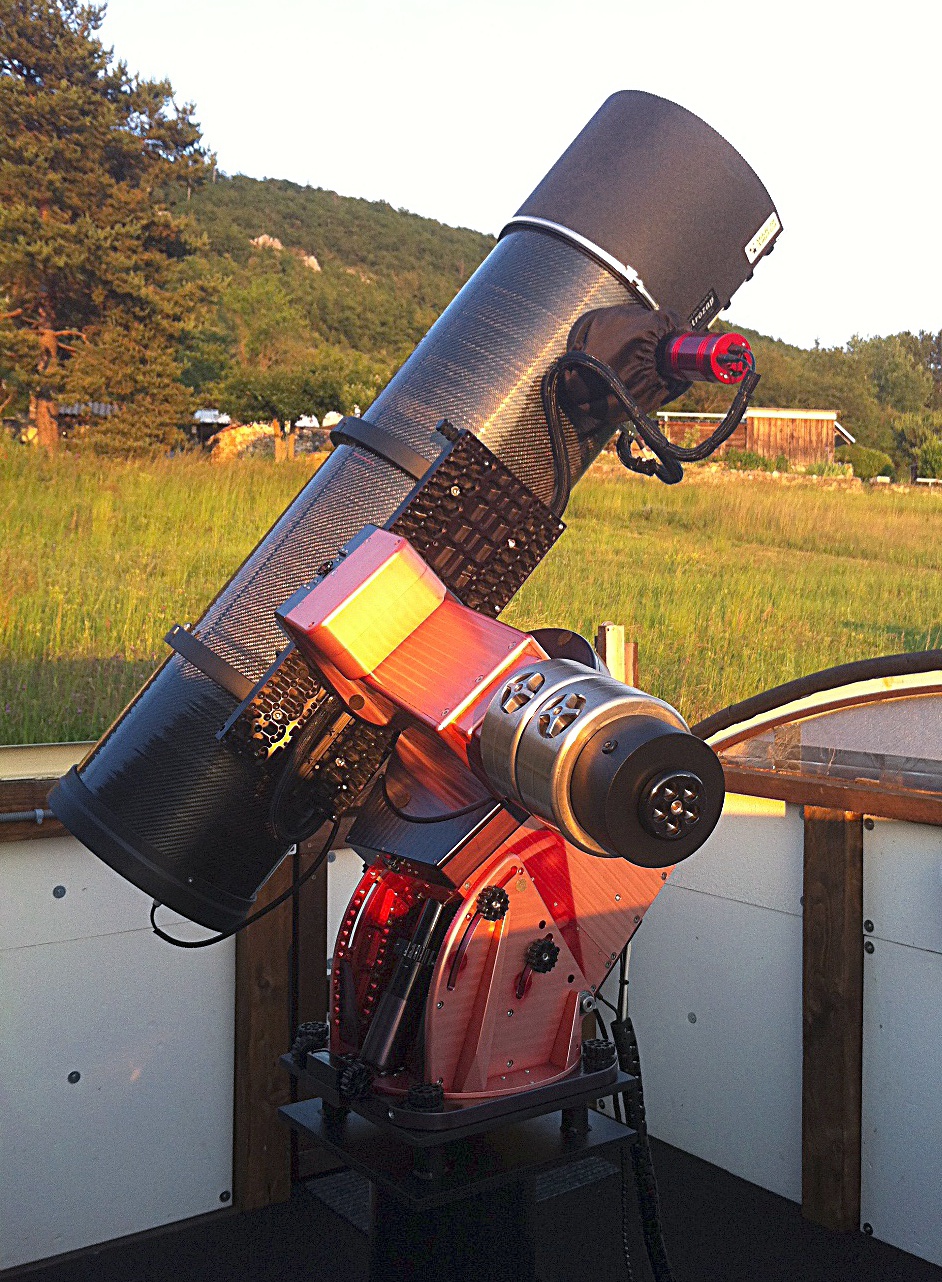 Je rappelle que : "toutes les images et textes de ce site sont protégés par les lois internationales sur le copyright
et ne peuvent être utilisés, sous quelque forme que ce soit, sans une autorisation écrite de son auteur".

I recall that : "All images and text from my site are protected by international law
copyright and may not be used in any form whatsoever without
written permission of its author".